Gamers Near Me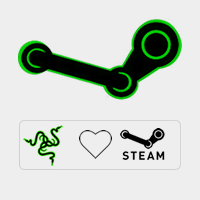 You have arrived at venue full of people and want to meet people who share some of your interests.
Looking at your phone makes you look stand-offish and unapproachable.
The solution is to be a member of Gamers-near-Me.
Your Razer Nabu alerts you when somebody sharing your specified interests is within 10 m.
Somebody interesting is close by, but which person is it?
Gamers-near-Me has sent you information about them. Now you need to look at your phone,  the people you will soon be talking to will also be looking at their phone learning about you.

Demonstration
With over 3,700 available games finding a fellow gamer on Steam can be tough.
Members of Gamers-near-Me list their interests and we match them up.
Your phone is sent a link to the Steam page of matching people close to you.  Click on the link to find out about them.
Github