Damage assessment app wins Mercedes-Benz 24 hour hackathon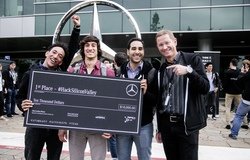 Picture credit: Mercedes-Benz
An app which enables a driver to assess the damage on their vehicle at all times, has won a recent hackathon organised by Mercedes-Benz Vans and DigitalLife@Daimler.
The event, which took place on November 5-6 in Silicon Valley, featured students and young professionals who were allotted a task to develop intelligent transport and mobility concepts for the Mercedes-Benz Vans division, with experienced mentors on hand.
The winning team, 'MBarc' (above), developed their damage...