Damage assessment app wins Mercedes-Benz 24 hour hackathon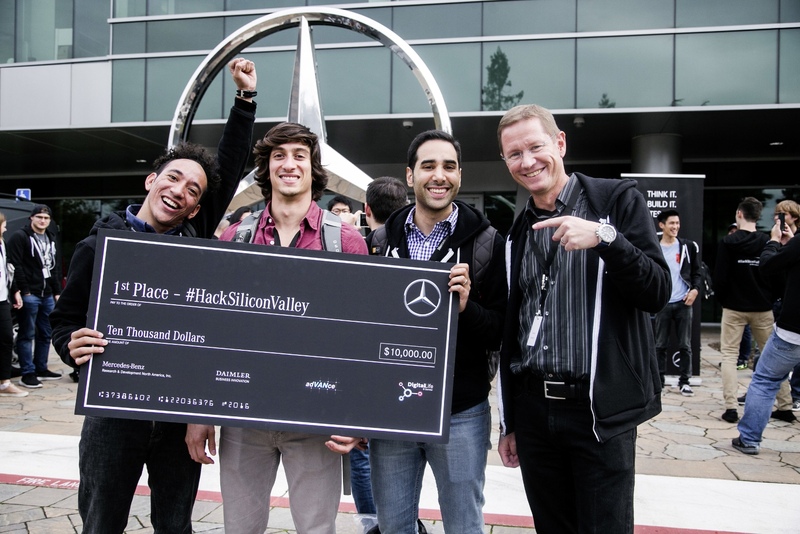 Picture credit: Mercedes-Benz
An app which enables a driver to assess the damage on their vehicle at all times, has won a recent hackathon organised by Mercedes-Benz Vans and DigitalLife@Daimler.
The event, which took place on November 5-6 in Silicon Valley, featured students and young professionals who were allotted a task to develop intelligent transport and mobility concepts for the Mercedes-Benz Vans division, with experienced mentors on hand.
The winning team, 'MBarc' (above), developed their damage assessment app within the 24 hour deadline, with the judges rating criteria such as the degree of innovation and business potential of the ideas, as well as the use of IoT and cloud technologies, and the functionality of the prototype.
To use the prototype app, the driver has to use their smartphone to take a 360 degree shot of the van, with the app then accessing data-based reference models, comparing them with the vehicle, and identifying possible damage. The project was praised for its quick and simple way to optimise fleet management.
Mercedes-Benz Vans is overhauling its image from a vehicle manufacturer into a provider of integrated, customer-focused solutions with its strategic initiative, "adVANce". Since the beginning of 2016, the Future Transportation Systems team in Silicon Valley has been working on concrete logistics concepts. The team's "garage" in Menlo Park was also the venue for the hackathon.