STARTUPBOOTCAMP INSURTECH IS BACK WITH ANOTHER HACKATHON!
Does the cybersecurity space get you going?
Want to shake up the Insurance industry?
Are you a hardcore coder? A regular Hackathon goer? Or a first-timer?
Whether you are a coder, developer, designer, mentor, or if you just want to observe, you are invited to join Startupbootcamp InsurTech's Hackathon...This time the theme is Cybersecurity! This will be an exciting and innovative weekend filled with exclusive challenges provided by elite insurance partners.
Who are we?
Startupbootcamp InsurTech is the leading accelerator focused on insurance innovation with a global community. We have a global community following us from our location in the heart of London, as well as some incredible partners supporting the program.
Tasks
You will form a team at the start of the event. You will then work on one of the challenges provided by our corporate partners for 48 hours, and, finally, you will present in front of the judges.
Challenges
WATCH THIS SPACE! ALL TO BE CONFIRMED SOON!
Provisional Agenda
Friday, 24th June - 5:30pm-7:30pm; The Introduction
5:00pm Registration
5:30pm Welcome & agenda
5:45pm Partners speak about their challenges and introduce their APIs
6:15pm Ice breaking exercise
6:45pm Participants pitch their idea for 60 seconds
7:15pm Form Teams
7:30pm Start Hacking!
Saturday, 25th June - 9:00am-midnight; Hack, Hack, and more Hacking (and a bit of chatting)
9:00am Breakfast served
12:00pm Lunch
5:00pm Tennis Tournament!
7:00pm Dinner
Sunday, 26th June - 9:00am-5:00pm; Why do all good things come to an end?
9:00am Breakfast served
11:00am Pitch Training
12:00pm Lunch
2:00pm Coders self-assessment session
3:00pm Final Presentations
Excited?
We are too! Sign up before it's too late! We promise you a weekend of fun, innovation, and Pimm's...Wimbledon Style.
Startupbootcamp InsurTech's partners are: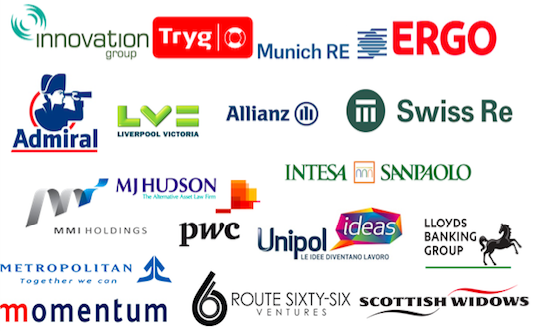 FAQ
Who can attend?
Anyone with an interest in our theme! This includes coders, designers, developers, mentors, and observers.
How big can a team be?
Teams can range from one team member to a maximum of 5 people.
What will be provided?
Wifi
Sockets and Ethernet cables
NOTE: We do NOT provide laptops and computers, so please bring your own and any associated chargers. (Don't forget phone chargers too).
Who owns my project and IP?
The individual/group who develops the project is the owner of the project and IP.
Can I stay overnight?
Yes! Showers are also available. Please bring anything you need to make yourself comfortable.
Do I need to bring breakfast/lunch/dinner?
No! There will be plenty of food and drinks throughout the whole weekend. We've got this covered.
Can I start my project on the challenges beforehand?
No. To keep everything fair, all work must be performed during the Hackathon.
What are the winning categories?
Best Overall Concept
Best Technical Solution
Best Design and Usability
Best Answer to a Challenge
WHEN
Friday, 24 June 2016 at 17:00 - Sunday, 26 June 2016 at 17:00 (BST) - Add to Calendar
WHERE
Rainmaking Loft London - 1 Saint Katharine's Way, London, E1W 1UN - View Map

Sponsors & Media Partners