Gramophone created at Pebble hackathon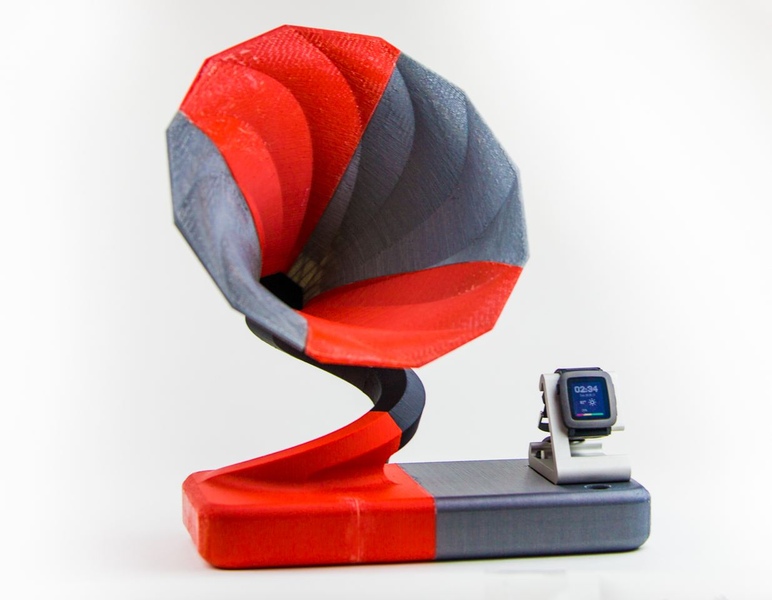 Sometimes the best things are when the old meets new; which most techies would agree is what's happening with smartwatches. One of the smartwatch pioneers is Pebble who has continued to grow from strength-to-strength. Instead of fading-out like most Kickstarter companies, the firm debuted a follow-up device earlier this year. 
Pebble's second big release, Pebble Time, features innovative "Smart Straps" which can add functionality to the watch through connecting with the magnetic port on the back of the device. Of course you need a bunch of creative folk to create hardware and applications which makes use of the new functionality, and what better to find these people than at a dedicated hackathon? 
Earlier this month, Pebble held a hackathon called "Pebble Rocks Boulder" in Colorado and provided everyone with a Pebble Time as an incentive to create something awesome for the smartwatch. 
One team created something pretty clever, called the TimeDock SleepEasy. It's essentially a modern Gramophone-inspired docking station with an Arduino board inside to add interactive features. 
The Arduino sends a request to the Pebble for the time, and the Pebble replies with the time, and a request to say it. A bunch of .wav files were pre-loaded onto the Arduino which played dependent on which notification is received on the Pebble. 
Pebble's SmartStrap interface allows a range of extra technologies to be added to the stock device whether it's a heart rate sensor, GPS, NFC, or anything else a creative mind can think of! It follows a trend for modular devices, as we're seeing in the smartphone arena with the likes of 'Project Ara' from Google. 
For more information on Pebble's hackathons and developer events, head this way. 
Have you ever attended a Pebble hackathon? Share your experience in the comments.