The Challenge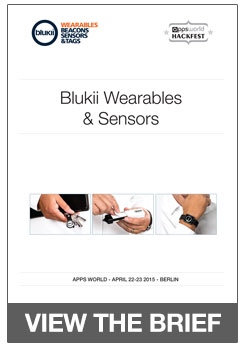 Create a unique, enjoyable and simple user experience for SMART HOME, AMBIENT ASSISTED LIVING, FITNESS and HEALTH, GAMES and TOYS or other IoT applications. Use a variety of sensor data inputs to provide a real cool App based on blukii wearables & sensors.
We make technologies wearable. Invisible. Useful. Sexy.
The result is an open hardware platform with a wide range of different wearables, beacons, sensors and tags. Based on this unique platform we realized for example the first very convenient alarm system for notebooks.
You can also use the blukii wearables, beacons, sensors and tags to realize your own solutions. blukii is an business accelerator for new ideas. Do not waste time and money with hardware development. Focus on the software development and on selling your product. We support you with the state-of-the-art hardware.
Get started with blukii
In order to get started just download the SDK (includes library and documentation) for the blukii SmartSensors from our website www.blukii.com. The SDK is available for Android and iOS. To get some sample code projects, just visit our Github repository
The blukii SDK for Android and iOS is now available on our website in the sensors section.
blukii is a brand of Schneider Schreibgeraete GmbH, Germany.
Prizes
€2k
1st place - Two Thousand Euros
The prize is to be divided among the winning team members
1st place - Hackfest Points
These points can be distributed among the winning team to place the hackers in the league
€500
2nd place - Five Hundred Euros - JOINT 2nd PLACE (a)
The prize is to be divided among the winning team members
€500
2nd place - Five Hundred Euros - JOINT 2nd PLACE (b)
The prize is to be divided among the winning team members
2nd place - Hackfest Points - JOINT 2nd PLACE (a)
The prize is to be divided among the winning team members
2nd place - Hackfest Points - JOINT 2nd PLACE (a)
The prize is to be divided among the winning team members
€500
3rd place - Five Hundred Euros
3rd place - Hackfest Points
The prize is to be divided among the winning team members